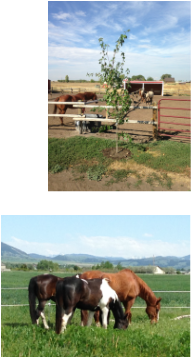 RATES & SERVICES:
Long-term Board $220/month/horse (long-term is a commitment of over 3 months)
Short-term Board $15/day/horse (when space available - anything less than 3 months)
Overnight stabling $30/night/horse CASH ONLY. NO ARRIVALS AFTER 10:00 PM.
Overnight and short-term board due upon arrival. Long-term board due on the 1st of the month. No exceptions.
BOARD CONTRACT: $220.00 per horse per month paid on the first day of each month. 30-days notice required to terminate board contract.
NOTE: The first 30 days of boarding is a trial period to determine if BOARDER's horse(s) is/are compatible for assimilation into the structure of the facility. If STABLE determines that BOARDER's horse is not suitable for the set-up at Holiday Horse Care, this contract will conclude at the end of this period.

REQUIRED VACCINATIONS - All horses must be vaccinated annually for tetanus, sleeping sickness, flu/rhino, W. Nile and intranasal Strangles. Rabies is recommended but not mandatory. Current negative Coggins and health report is required for all horses arriving from out-of-state.
All horses are in groups of 4 with extended eating time on netted slow-feeders.
No special supplementing offered by STABLE. No special-needs horses.
Bad actors will not be tolerated. (ie., aggressive, bullying behavior)
All BOARDERS must ride and/or do something with their horses regularly.
No absentee BOARDERS. (no snowbirds, extended vacationers, out-of-town owners, etc.)

No Dogs allowed on property. ​No smoking.
SPECIAL SERVICES
The following services may be offered
in addition to your regular board
.
Oral medications $10/time
Bandaging $20/time + bandaging materials
Stalling due to illness or injury $15/day + shavings cost/bag used
Trailering
To local veterinary hospital, less than 20 min. away $25 + $25/hour to stay with horse if longer than 15 minutes
To MEA in Logan $50 + $25/hour to stay with horse if required
Please note that I am not a veterinarian and I am not qualified to give shots. Also, I may not be able to offer assistance depending on the situation.
---