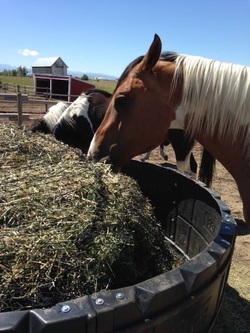 Holiday Horse Care & Boarding Stables is situated on a scenic 18+ acre parcel between Bozeman and Belgrade, Montana. Surrounded by farmland, the location offers relaxing ride time with views of the mountains and abundant wildlife. We tell our boarders to let go of their busy lives and stress when they hit our driveway so that they can enjoy their horses in our wonderfully peaceful environment.

We offer a slow-feed programand the horses love it! The use of AGI plastic feed rings with Haychix nets has proven to be a huge success. The horses are able to "graze" for extended periods of time on their grass/alfalfa hay, which is much more natural for horses and really helps reduce stress and related gastric issues. Across the board, the horses are healthier and happier!

Our happy horse population is divided into groups of 3-4 compatible horses utilizing the slow-feed concept. There are several 12' x 12' stalls in the barn available for overnight stabling.

Stop on out and I'd be happy to give you a tour of the facility. You will find happy, relaxed horses and humans alike at Holiday Horse Care & Boarding Stables!





---
Safe fencing, shelters. heated water tanks
150' x 300' outdoor arena
Half-mile riding track around back 9 acres

Stall barn for overnight stays
Tack room for boarders
Trailer parking

Active riding community
Quality grass/alfalfa hay
Regular cleaning schedule